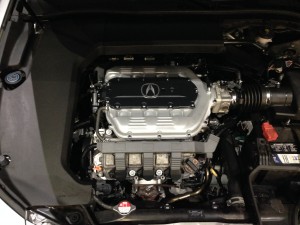 The Acura timing belt replacement is a maintenance item that is very important to the reliability and durability of the engine. If the timing belt breaks, it can not only leave you stranded, it can also result in major engine damage.
The manufacturer recommended replacement interval for the Acura timing belt, under normal driving conditions, is 7 years or 105,000 miles (whichever occurs first).
Not all Acura vehicles utilize an Acura timing belt. If you own a late model Acura vehicle that has a 4 cylinder engine, then it does not have an Acura timing belt, but instead it utilizes a timing chain. Late model Acura vehicles that use a timing chain include the Acura TSX (4 cylinder models only), the Acura RSX, the Acura ILX, and the Acura RDX.
All late model Acura vehicles, equipped with a V6 engine do utilize an Acura timing belt. These vehicles include the Acura RL, TL, TSX (V6 model only), MDX, and ZDX.
Even though a timing chain equipped Acura car does not have a service interval that requires the timing chain replacement, the chain can still fail. At Accurate Automotive, our service facility has seen some Acura and Honda engines with timing chain failure. When not lubricated properly, the timing chain can stretch, jump time and cause major engine damage. In the past, when we have seen timing chain failure on Acura and Honda engines, the one consistent thing our service technicians noted was engine sludge. In other words, if you don't change your oil regularly, and your Honda or Acura vehicle uses a timing chain, then it can cause major issues and a very expensive repair. Keep your oil changed. "An ounce of prevention is worth a pound of cure."
On Acura vehicles that utilize a Acura timing belt, Accurate Automotive recommends replacement of the timing belt,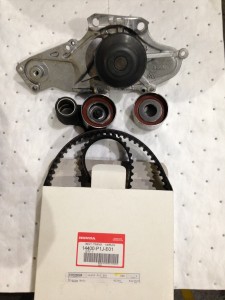 water pump, timing belt tensioner and accessory drive belts as one complete package.
There are several reasons for this recommendation. First, the accessory drive belt and timing belt tensioner have to be removed to replace the timing belt and the timing belt drives the water pump. Second, the timing belt tensioners have been known to start 'chattering' in cold weather, which can result in the timing belt loosening up and jumping time This can cause major engine damage. The third reason for the recommendation of additional parts replacement with the Acura timing belt is due to the long interval between the timing belt replacement, 105,000 miles. If the water pump is not replaced during the timing belt replacement interval and then fails before the next timing belt replacement, then all of those components must removed from the engine prematurely, between the Acura timing belt replacement intervals.
Come in and see why Accurate Automotive is the best place in Nashville and middle Tennessee to service,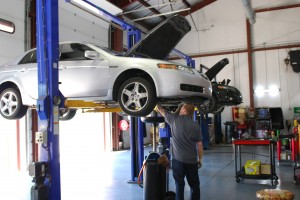 repair and maintain your Honda and Acura automobiles.
Accurate Automotive is a shop in middle Tennessee that is dedicated to the service and owner satisfaction of Honda and Acura car drivers in Nashville, Tennessee and areas around Middle TN.
Since 1997, Accurate Automotive has been serving middle TN Honda and Acura car owners living in Nashville, Brentwood, Cool Springs, Franklin, Hermitage, Murfreesboro, Smyrna and other areas surrounding Nashville.